Trello: A Great way to organise your group work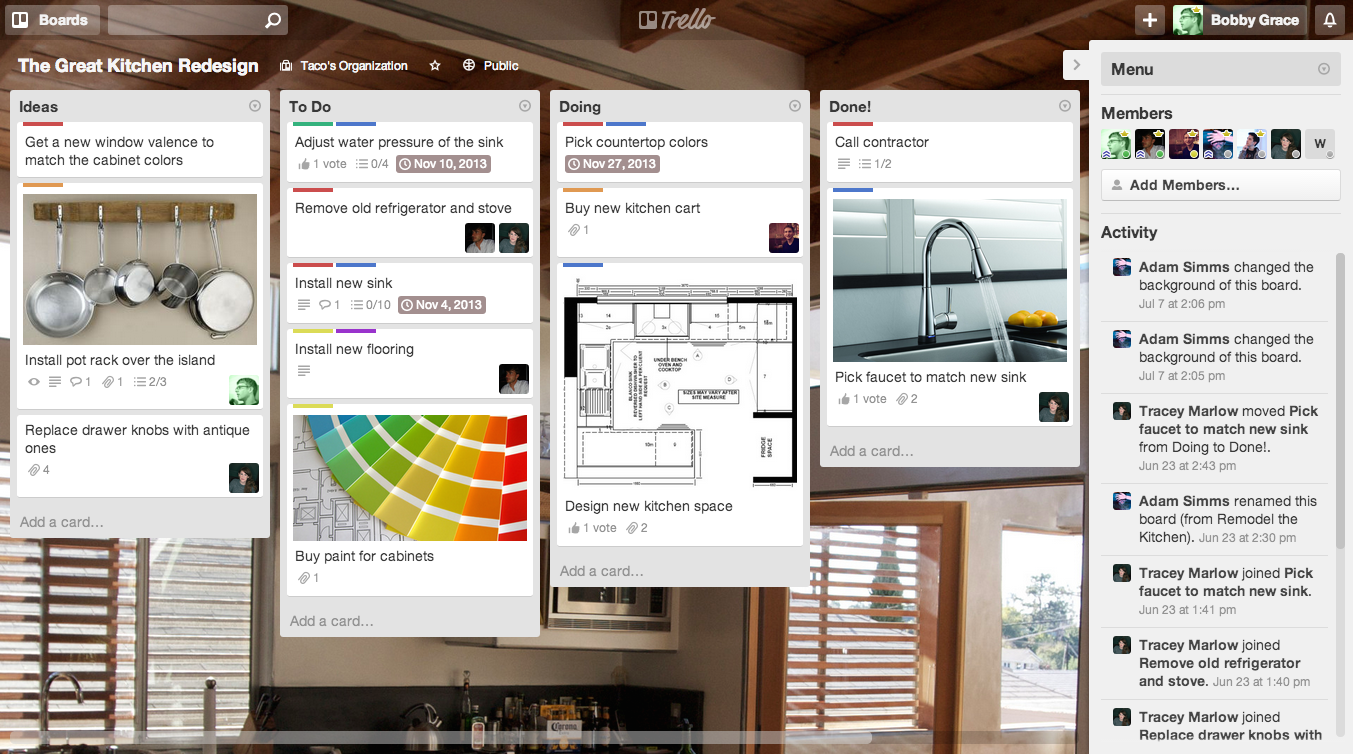 No need to look further, whether you're in need to organise your personal life, working on a group project or even when working on a software development project, I have got the perfect tool for you. Let me introduce you to Trello. I have started using Trello myself as I was involved in a software development project. At the moment I am also using it to organise my personal life.
Trello is used by over 5 million people these days. It has won its popularity by adding an extra layer into the traditional to-do lists while keeping its interface easy and understandable for everyone. It is like a digital whiteboard filled with post-its that can be easily moved around. So imagine a big whiteboard on which you can make lists, for example "Technology of the Week Assignment" and put in cards or to-do's related to the assignment. Your cards could be something like "Ideas" or "Blogpost". All these cards can be edited by adding, deadline dates, checklists, attachments, images and even discussion notes from others. Through Trello you can easily divide the tasks, engage in discussions on the topics and track work others are doing and which tasks are already done.
Two weeks ago, Trello has introduced Trello Business Class, focusing on the business needs of its consumers. What is new about Business Class is that you can install so called power-ups. This enables you to incorporate all the other applications that you are using into one place. You are now able to connect applications such as Dropbox, Twitter and Slack to Trello. Connecting Slack for example, enables you to come back to a task at a later moment and getting a reminder in Slack. What is even more interesting, developers can connect GitHub to Trello, enabling them to add pull requests, commits and issues to cards. The details that are relevant are shows directly on the card.
Do you think Trello can make a difference in organising your personal life? And do you know any other tools that do similar things as Trello?
http://uk.businessinsider.com/trello-kanban-app-for-agile-programming-hits-10-million-2015-9?r=US&IR=T
http://lifehacker.com/how-to-use-trello-to-organize-your-entire-life-1683821040?sidebar_switch=on&utm_expid=66866090-53.WJHsK0uiTqG2KukuD0irIA.2&utm_referrer=https%3A%2F%2Fwww.google.nl%2F
http://computers.tutsplus.com/tutorials/everything-you-need-to-know-to-work-productively-in-trello–cms-21450
http://blog.trello.com/introducing-the-all-new-trello-business-class/
http://oss-watch.ac.uk/resources/pullrequest